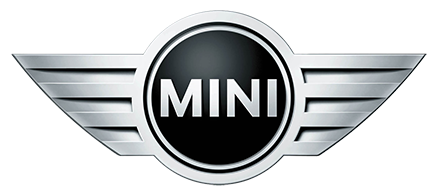 Mini
Mini (stylised as MINI) is a British automotive marque, owned by BMW since 2000, and used by them for a range of small cars. The word Mini has been used in car model names since 1959, and in 1969 it became a marque in its own right when the name "Mini" replaced the separate "Austin Mini" and "Morris Mini" car model names. BMW acquired the marque in 1994 when it bought Rover Group (formerly British Leyland), which owned Mini, among other brands.
The Mini logo, used since 2001, is inspired by earlier logos and features the brand name, written in uppercase letters, placed inside an elegant black circle, which is embedded between the silver wings that symbolize speed and freedom of expression.
The current Mini emblem is designed in several shades of black and silver colors. While the silver color is quite popular with car manufacturers and highlights sophistication and grandeur, the black adds elegance, strength and excellence to the logo.
Mini VIN plate location: where to find?
Your Mini VIN should appear on your vehicle registration and insurance documents, but you can also find it on the car itself. Check these places:
The VIN number on a LHD (left-hand-drive) car is located at the base of the windscreen on the driver side of the vehicle in used car models.
The VIN number on a UK (right-hand drive) car is located at the base of the windscreen on the passenger side of the vehicle in used car models.
The chassis number can also be found under the bonnet of the vehicle stamped / printed near the top of the suspension mounting.
The Mini VIN number should be similar in structure to WMWRA32070TB00081
Using the above example, WMWRA32070TB00081, we can see a MINIs VIN can be read like this:
Character 1: W - Country
Character 2: M - Manufacturer
Character 3: W - Type
Characters 4 to 8: RA320 - Vehicle description
Character 9: 7 - Check-Digit
Character 10: 0 - Year
Character 11: T - Plant
Characters 12 to 17: B00081 - Serial Number
It's the last 6 digits that go some way identify the order the car was built. Often this is referred to as the last 7 digits, including the plant of manufacturer as well, in this case, TB00081. You will notice that the above MINI ONE VIN starts with a B0, so what does this mean? It transpires it allows you to identify not only the model but also the gear box, region and whether the car is left hand or right hand drive.